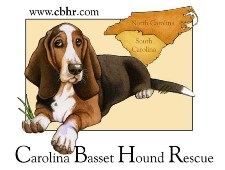 Adoption Application
Thank you for your interest in adopting a homeless basset hound. The goal of our application process, which includes a veterinary check and a pre-adoption home visit, is to match each of our bassets with a loving, forever home. We review each application on a case-by-case basis.
Please note: Carolina Basset Hound Rescue does not adopt bassets to be given as gifts. CBHR will only accept adoption applications from the family where the basset will reside. Carolina Basset Hound Rescue primarily adopts dogs only within North and South Carolina.
Veterinary/Reference/Landlord Check
We routinely conduct a veterinary check on pets currently living in the household. Please call your veterinarian in advance to authorize release of your information to Carolina Basset Hound Rescue. We require all dogs in the home to be up-to-date on:
Heartworm preventative
Rabies vaccination
DHLPPC (or equivalent)
Cats and all other domestic animals must have a current rabies vaccine.
If you purchase your heartworm preventative from a source other than your veterinarian and/or administer your pets' vaccines yourself, please let us know ahead of time. If your veterinarian has recommended that a pet not be vaccinated because of a medical condition, please let us know and have your veterinarian release that information to us.
If you do not have pets and currently don't have a veterinarian, please provide the name and contact information of one personal reference (no family members).
Renters will be required to provide the landlord's name and phone number to verify a basset hound will be allowed to live in the rental property.
Pre-Adoption Home Visit
Once the veterinary check is complete, our adoption team will schedule your home visit with a CBHR volunteer. The home visit helps us get to know you and better understand your expectations for a new family member.
Adoption Fees
A $15.00 non-refundable adoption application fee is required. Carolina Basset Hound Rescue requires an adoption fee of $250 per dog to assist in deferring veterinary costs. All dogs placed by Carolina Basset Hound Rescue have received appropriate vet care as recommended by a Carolina Basset Hound Rescue vet.
Carolina Basset Hound Rescue reserves the right to refuse adoption to anyone for any reason.